What did I do with my life today? Well, aside from a lot of house-wifery - even though I'm not a housewife, how strange is that - that included stuff like laundry, vacuuming, ironing said laundry and dusting (which I loathe), I made
cupcakes!
In green and what was supposed to be pink, but the box of dyes lied and told me that dusty rose was the same thing as pink. It's
totally
not, and I want my money back. Cream cheese icing is expensive.


Aren't they adorable on their little fish plate
?

Just kidding about that last, but they were quite delicious. I incinerated one batch of the smaller ones, because I decided to multi-task while baking which never ends well.

In other news, I spent Saturday night at the beach - it only rained a little, as there is currently some sort of nasty tropical storm bit making it's way through FL and ruining my chances of returning to College with a tan. Sad day. But here's what the gorgeous sunset looked like!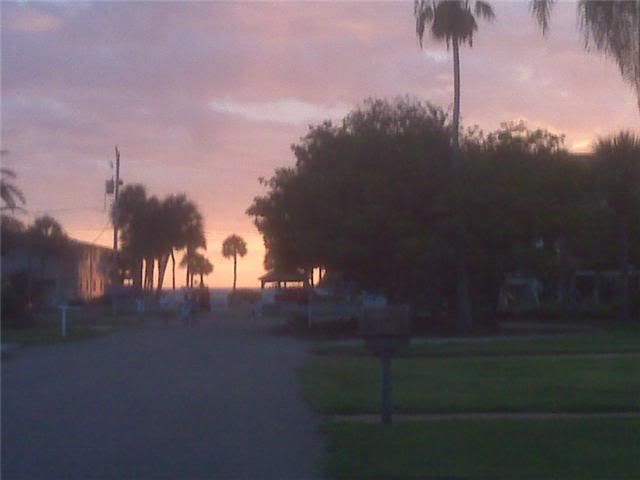 It was so beautiful and purple through the storm clouds!

I apologize for the sorry state of the pictures on this blog, by the way. My camera's memory card took a holiday for the summer and the camera itself only stores a weak (as Lax Bro would say) twenty-one pictures! How awful! I spent four days in D.C. with Lax Bro a few weeks ago, and I only have twenty-one pictures to show for it! Depressing, really.

Another thing I've been working on this week is recommendations for sororities - I'm going to rush Kappa Delta and Alpha Chi Omega when I return to school; the problem is, all of my mother's friends ate Tri Deltas and my Alumni friends are mostly... not from either of those sororities! It puts me in a quandary, really, I even had to go so far as to ask my
grandmother
to ask her friends what sororities they were in! Oh, well.

One last thing; as a shout-out to my one follower, Gator Nation all the way! I considered going to the Swamp for college, too! Kudos, my friend!